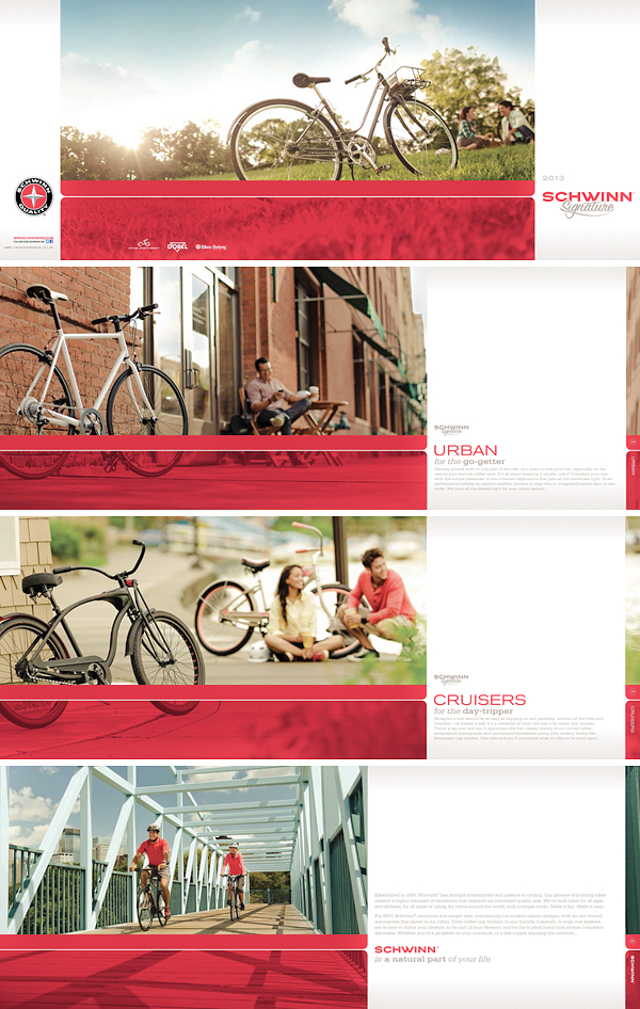 A new year brings new opportunities and of course new work. The debut of the 2013 Schwinn Catalog is out in select worldwide bi

cycle

retailers

showcasing their new line up of bikes ranging from Urban style to Cruisers, and Sport Hybrid to Mountain bikes and more. It's a pretty sweet collection of bikes

. D

esign certai

nly

hasn't been overlooked as the brand

continues to evolve

. The matte black "Cruiser" mod

el

above even comes with a built in bo

ttle opener.
Over two days of shooting for Schwinn we set up in

multiple

locations around the Minneapolis area, eac

h

lending to the perfect backdrop for each particular style of bike. The results are evident in the new catalog as the bikes stand out with the complimentary environments adding to the strength of the imagery.
We are quite pleased with how everything turned out. It's refreshing to look back amid the cold of winter, at a mid-summer production, r

ecalling sunny skies, green grass, as well as all the bikes and locations we paired up for this project.
Happy New Year to all those we worked with last year. We are looking forward to conti

nu

ed adventure and all that 2013 has in stor

e!